Competition Information
Manager – Luke Manahan
luke@oztag.com.au
Seniors – Summer 2020/21
10 week competition + Semi & Grand Finals.
Naremburn Park, Station St, Naremburn 2065
Wednesday Nights Men's & Mixed Competitions
Commences Wednesday October 21st
Registration
Cost is $100 per player up until October 14th.
After October 14th it will be $110 per player.
To confirm your spot in the draw you must have paid for 8 players before Round 1.
Please Pay by Bank Transfer
Bank Details –
Bankwest
Northern Sydney Oztag
BSB 302-965
Acc No. 0202638
Reference: NSO + Team Name
Games will kick off as early as 6:15pm. Game times will be equally allocated unless requested. Times may change depending on competition numbers.
Uniform
Official Oztag shorts/tights must be worn at all times whilst playing. These will be available at the ground to purchase – Shorts & Tights $30
Calendar
Round 1 – October 21st
Round 2 – October 28th
Round 3 – November 4th
Round 4 – November 11th
Round 5 – November 18th
Round 6 – November 25th
Round 7 – December 2nd
Round 8 – December 9th
Wet Weather – December 16th
Round 9 – January 20th
Round 10 – January 27th
Semi Final – February 3rd
Grand Final – February 10th
Wet Weather – February 17th
Player Eligibility
All players must be 15 years or older to take the field.
NO RING IN PLAYERS. If you are caught playing unregistered players, your team will forfeit the game and lose 4 competition points. Players that play as a ring in will receive a 1 match suspension
No New player registrations will be taken after Round 3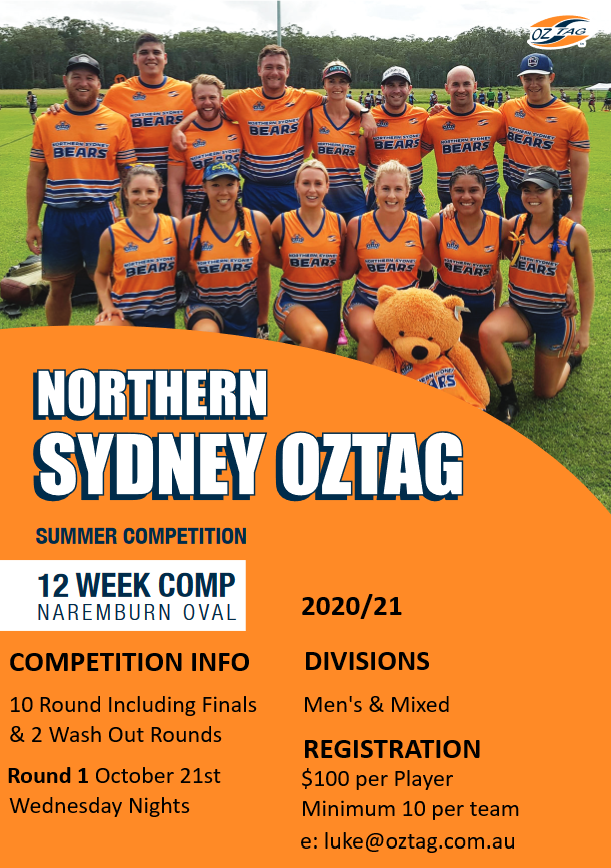 COVID19
Australian & Northern Sydney Oztag comply with the COVID19 safety plan and guidelines from NSW Government. Click the link below to view the COVID19 Resource page
All teams will be required to complete a team registration form. The registration form must be completely filled out before Round 1. This is part of our compliance with NSW Government in regards to COVID19.